Design. Manufacture. Maintain.
Omni Engineering provides specialist project management, design and manufacturing services to a wide range of industries. Our strength in delivering Special Mission Solutions is our highly skilled and diverse team of engineers and technicians with deep experience in meeting the needs of both government and private sector end users.
What we do
Our focus is providing end-to-end special mission solutions to meet the individual needs of our clients. Omni Engineering have the skills, knowledge and experience to confidently offer a broad range of products and services in areas from design, systems integration, manufacture through to technology consulting and managed services. We understand the importance of robust systems delivered on-time and within budget.
Who we are
The Omni Engineering team offers highly developed proficiencies in aerospace design, communications systems, airborne special missions, project management and law enforcement. These skill sets allow us to provide a unique range of engineering services which perfectly complement the needs of Special Missions operators. We use both established and innovative tools and methodologies, enabling us to provide the highest standard of service. Omni Engineering staff maintain a strong culture of security.
Our record
The Omni engineering and aviation team have a combined experience of over 90 years in the design, manufacture, delivery, operation and through-life support of airborne mission systems. Recent projects include:
Specialist surveillance systems for Defence including design, manufacture, support and training
Mobile and static terrestrial receive stations
Terrestrial covert communications systems for Law Enforcement
System design and integration consulting services for Fire and Emergency Services
Civil aviation component manufacturing
Secondment of engineering design and drafting services to Aerial Survey Operators
Aircraft modifications for Special Missions
Our facility
Omni Engineering occupy one of the largest hangars at Jandakot Airport near Perth. As a secure facility, it is accredited for storage of ITAR and US Treaty equipment and data. Our hangar includes facilities for role equipment design, complex technical manufacture, maintenance and repair, secure product storage, client training and meeting rooms.
Design
Aerospace, Mechanical, Electrical and Electronics Engineering
Special Missions Solutions focus
Start-to-finish client engagement
Evolutionary design based on operational experience
Compliance Documentation
Product Lifecycle Management
Manufacture
High-quality products built in-house
Approved production processes
Complete traceability and configuration control
Support
Full workshop facilities for aircraft and role equipment maintenance
Spare parts inventory and control
Maintenance and operations manuals
Initial and ongoing training for mission system operators
Project Management
Complex projects, experience working with Australian federal and state governments
Downloads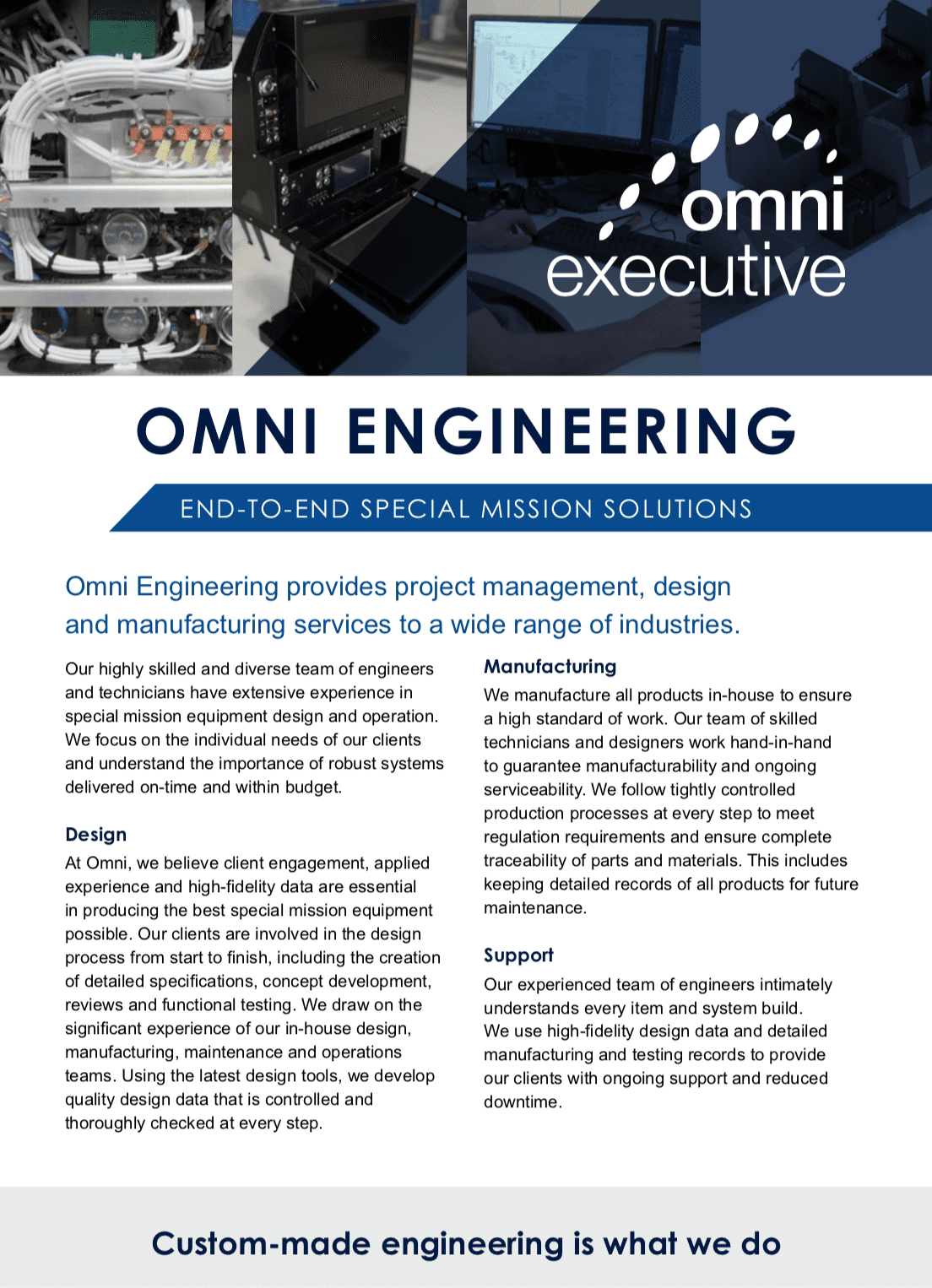 Engineering Brochure
(337 KB)